Planning to watch your next movie in a 4DX screen? Here's an in-depth look at what powers the 4DX experience and what makes it so immersive.
What is 4DX?
4DX is a popular cinema format that allows you to enjoy supported movies beyond the visual and audio reproduction. This format targets the fourth dimension, which points to your senses. To that end, 4DX cinema seats are known for utilizing motion, wind, lighting and even simulated smell and snow to deliver a unique experience. These effects work in tandem with the ongoing scene of the movie you are watching. When you watch a snowy mountain scene in a 4DX cinema, you can feel the temperature drop and simulated snowfall in your cinema.
How does 4DX work?
4DX cinemas can show both 2D and 3D movies. In addition, when watching a 3D movie in a 4DX theater, you must wear compatible glasses provided by the theater for the added 3D effects.
According to the official description, "4DX includes on-screen visuals with synchronized motion seats and environmental effects such as water, wind, fog, scent, snow and more to enhance the on-screen action."
4DX offers up to 21 such unique effects to make movies more immersive than ever. How many of these effects you experience depends on the movie you are watching. Perhaps the most impactful effect of the 4DX arsenal is the movement of the seats.
4DX seats feature variable speed control and can move in multiple directions to simulate effects such as sudden thrust or tilt. The seats also precisely vibrate to simulate effects such as earthquakes or large collisions, ideal for action movies.
Meanwhile, other effects are controlled by different machines, all controlled by a centralized mechanism that triggers effects as needed in relation to the film.
4DX effects and types of 4DX cinemas
There are 21 effects in total. Check them out in the image below.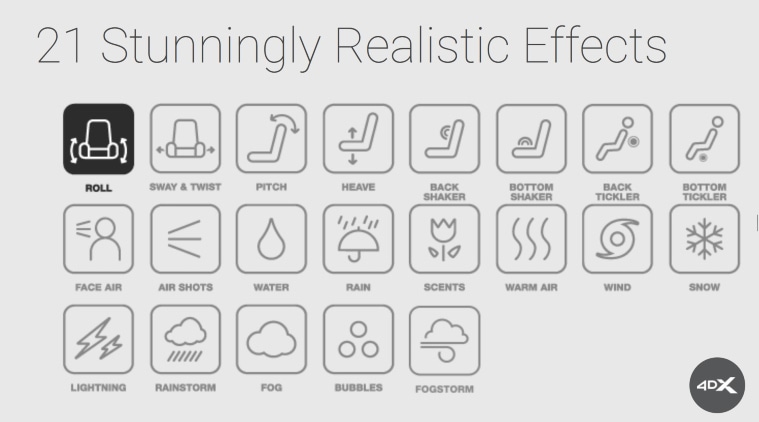 However, not all 4DX effects will be available in every 4DX theater. 4DX cinemas are divided into four categories – 4DX Prime, 4DX Pro, 4DX Standard and 4DX Economy.
With 4DX Prime and 4DX Pro you have all 21 effects, which is why these tickets will also be among the most expensive. Meanwhile, 4DX Pro will offer 12 effects, skipping effects like Face Air, Air Shots, Rain, Warm Air, Back Tickler, and Bottom Tickler. 4DX Economy is the most affordable experience with 10 effects including Roll, Pitch, Bottom Shaker, Scents, Rainstorm, Wind, Snow, Lightning, Fog and Bubbles.